Though mainly a reader of YA Contemporary, I'm known, on occasion, to treat myself to a good middle grade novel. Today, I'm sharing five of my favorites. All overviews come from the
Barnes and Noble
website.
1.
The Boy in the Striped Pajamas
by John Boyne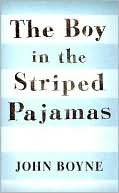 When Bruno returns home from school one day, he discovers that his belongings are being packed in crates. His father has received a promotion and the family must move from their home to a new house far far away, where there is no one to play with and nothing to do. A tall fence running alongside stretches as far as the eye can see and cuts him off from the strange people he can see in the distance. But Bruno longs to be an explorer and decides that there must be more to this desolate new place than meets the eye. While exploring his new environment, he meets another boy whose life and circumstances are very different to his own, and their meeting results in a friendship that has devastating consequences.
2. Among the Hidden by Margaret Peterson Haddix
Luke has never been to school. He's never had a birthday party, or gone to a friend's house for an overnight. In fact, Luke has never had a friend. Luke is one of the shadow children, a third child forbidden by the Population Police. He's lived his entire life in hiding, and now, with a new housing development replacing the woods next to his family's farm, he is no longer even allowed to go outside. Then, one day Luke sees a girl's face in the window of a house where he knows two other children already live. Finally, he's met a shadow child like himself. Jen is willing to risk everything to come out of the shadows -- does Luke dare to become involved in her dangerous plan? Can he afford not to? In a future where the Population Police enforce the law limiting a family to only two children, Luke has lived all his twelve years in isolation and fear on his family's farm, until another "third" convinces him that the government is wrong.
3. Hoot by Carl Hiaasen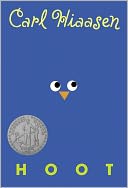 Unfortunately, Roy's first acquaintance in Florida is Dana Matherson, a well-known bully. Then again, if Dana hadn't been sinking his thumbs into Roy's temples and mashing his face against the school-bus window, Roy might never have spotted the running boy. And the running boy is intriguing: he was running away from the school bus, carried no books, and–here's the odd part–wore no shoes. Sensing a mystery, Roy sets himself on the boy's trail. The chase introduces him to potty-trained alligators, a fake-fart champion, some burrowing owls, a renegade eco-avenger, and several extremely poisonous snakes with unnaturally sparkling tails. Roy has most definitely arrived in Carl Hiaasen's Florida.Roy, who is new to his small Florida community, becomes involved in another boy's attempt to save a colony of burrowing owls from a proposed construction site.
4. The Westing Game by Ellen Raskin
For over twenty-five years, Ellen Raskin's Newbery Medal-winning The Westing Game has been an enduring favorite. It has sold over one and a half million copies. This highly inventive mystery involves sixteen people who are invited to the reading of Samuel W. Westing's will. They could become millionaires-it all depends on how they play the tricky and dangerous Westing game, a game involving blizzards, burglaries, and bombings! Ellen Raskin has created a remarkable cast of characters in a puzzle-knotted, word-twisting plot filled with humor, intrigue, and suspense. The mysterious death of an eccentric millionaire brings together an unlikely assortment of heirs who must uncover the circumstances of his death before they can claim their inheritance.
5.
Drums, Girls, and Dangerous Pie
by Jordan Sonnenblick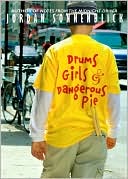 Thirteen-year-old Steven has a totally normal life: he plays drums in the All-Star Jazz band, has a crush on the hottest girl in the school, and is constantly annoyed by his five-year-old brother, Jeffrey. But when Jeffrey is diagnosed with leukemia, Steven's world is turned upside down. He is forced to deal with his brother's illness and his parents' attempts to keep the family in one piece. Salted with humor and peppered with devastating realities, DRUMS, GIRLS, AND DANGEROUS PIE is a heartwarming journey through a year in the life of a family in crisis.
Have one to recommend? Share it below!