Every now and then, I'll read something age-appropriate. And by age-appropriate, I mean a book written for people out of high school. To close out the week, I'm sharing my five favorite novels of literary fiction. All overviews are taken from either
Barnes and Noble
(books 1-4) or
Amazon
(book 5).
1. For One More Day by Mitch Albom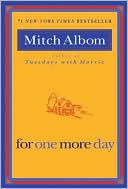 As a child, Charley "Chick" Benetto was told by his father, "You can be a mama's boy or a daddy's boy, but you can't be both." So he chooses his father, only to see the man disappear when Charley is on the verge of adolescence. Decades later, Charley is a broken man. His life has been crumbled by alcohol and regret. He loses his job. He leaves his family. He hits bottom after discovering his only daughter has shut him out of her wedding. And he decides to take his own life. He makes a midnight ride to his small hometown, with plans to do himself in. But upon failing even to do that, he staggers back to his old house, only to make an astonishing discovery. His mother--who died eight years earlier-is still living there, and welcomes him home as if nothing ever happened. What follows is the one "ordinary" day so many of us yearn for, a chance to make good with a lost parent, to explain the family secrets, and to seek forgiveness. Somewhere between this life and the next, Charley learns the astonishing things he never knew about his mother and her sacrifices. And he tries, with her tender guidance, to put the crumbled pieces of his life back together.
2. The Perks of Being a Wallflower by Stephen Chbosky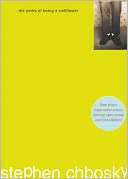 Caught between trying to live his life and trying to run from it, Charlie is navigating through the strange worlds of love, drugs, "The Rocky Horror Picture Show", and dealing with the loss of a good friend and his favorite aunt.
3.
American Youth
by Phil LaMarche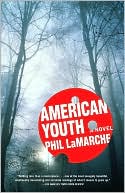 American Youth
is a controlled, essential, and powerful tale of a teenager in southern New England who is confronted by a terrible moral dilemma following a firearms accident in his home. This tragedy earns him the admiration of a sinister gang of boys at his school and a girl associated with them. Set in a town riven by social and ideological tensions - an old rural culture in conflict with newcomers - this is a classic portrait of a young man struggling with the idea of identity and responsibility in an America ill at ease with itself.
4.
Nineteen Minutes
by Jodi Picoult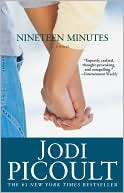 Sterling is a small, ordinary New Hampshire town where nothing ever happens -- until the day its complacency is shattered by a shocking act of violence. In the aftermath, the town's residents must not only seek justice in order to begin healing but also come to terms with the role they played in the tragedy. For them, the lines between truth and fiction, right and wrong, insider and outsider have been obscured forever. Josie Cormier, the teenage daughter of the judge sitting on the case, could be the state's best witness, but she can't remember what happened in front of her own eyes. And as the trial progresses, fault lines between the high school and the adult community begin to show, destroying the closest of friendships and families.
5.
The Great Lenore
by J.M. Tohline
The Great Lenore
is the tale of a ravishing young Brit whose falsely-reported death provides her with an opportunity to begin a new life. Before she can disappear for good, however, she longs to know the reaction of her two-timing husband and his aristocratic family. To find out, Lenore enlists Richard - an outsider in the money-and-booze sodden landscape of Nantucket high society - to be her eyes and ears. As events unfold, Richard discovers the entanglements of Lenore's relationships are more intricate than he ever expected - more intricate even than the secrets within Lenore's miniature punt boat.
Got a suggestion for me? Leave it below. Have a great weekend, friends.
In case you missed it: