Happy New Year!
This weekend I attended the second launch party for YA Author
K.M. Walton
(her first launch was actually one year ago today).
EMPTY
hit bookstores on New Year's Day, one year after the release of her debut,
CRACKED
.
K.M. Walton addresses a packed audience at B&N.
Kate's launch parties are highly anticipated by the crew of Philly Lit Night:
Hundreds of people show up.
There is lots of food.
Kate's a healthy person, so the food includes things in compliance with my "Don't Get Fat Again" diet (excluding the peanut butter cookies, which I may or may not have had five of).
Her speeches are inspiring and motivate action. Kate writes about real issues affecting real people. She doesn't just promote her book; she promotes the cause.
She gives out free drink tickets.
Kate's an awesome writer and person.
To see a photo recap of Kate's launch, jump over to the blog of
Frankie Diane Mallis
. While you're there, make fun of her for getting us lost on the way home. Because she gets us lost a lot.
To help celebrate Kate's book, I'm giving away one signed hardcover of EMPTY. To enter, all you need to do is comment on this post, then officially enter through the Rafflecopter widget.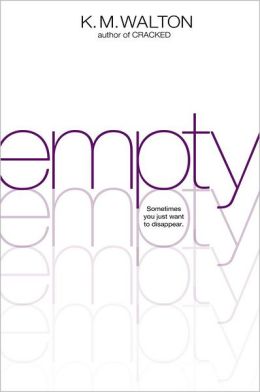 Synopsis for EMPTY (from goodreads.com)
Dell is used to disappointment. Ever since her dad left, it's been one let down after another. But no one—not even her best friend—gets all the pain she's going through. So Dell hides behind self-deprecating jokes and forced smiles.
Then the one person she trusts betrays her. Dell is beyond devastated. Without anyone to turn to for comfort, her depression and self-loathing spin out of control. But just how far will she go to make all of the heartbreak and name-calling stop?
This giveaway is open to U.S. residents only. It closes on January 14 at midnight. The winner will be notified and announced on Monday, January 14, and will need to provide his or her address so the prize can be shipped. Good luck!
a Rafflecopter giveaway
Ms. Walton herself introduced me to this song. It's a current favorite.